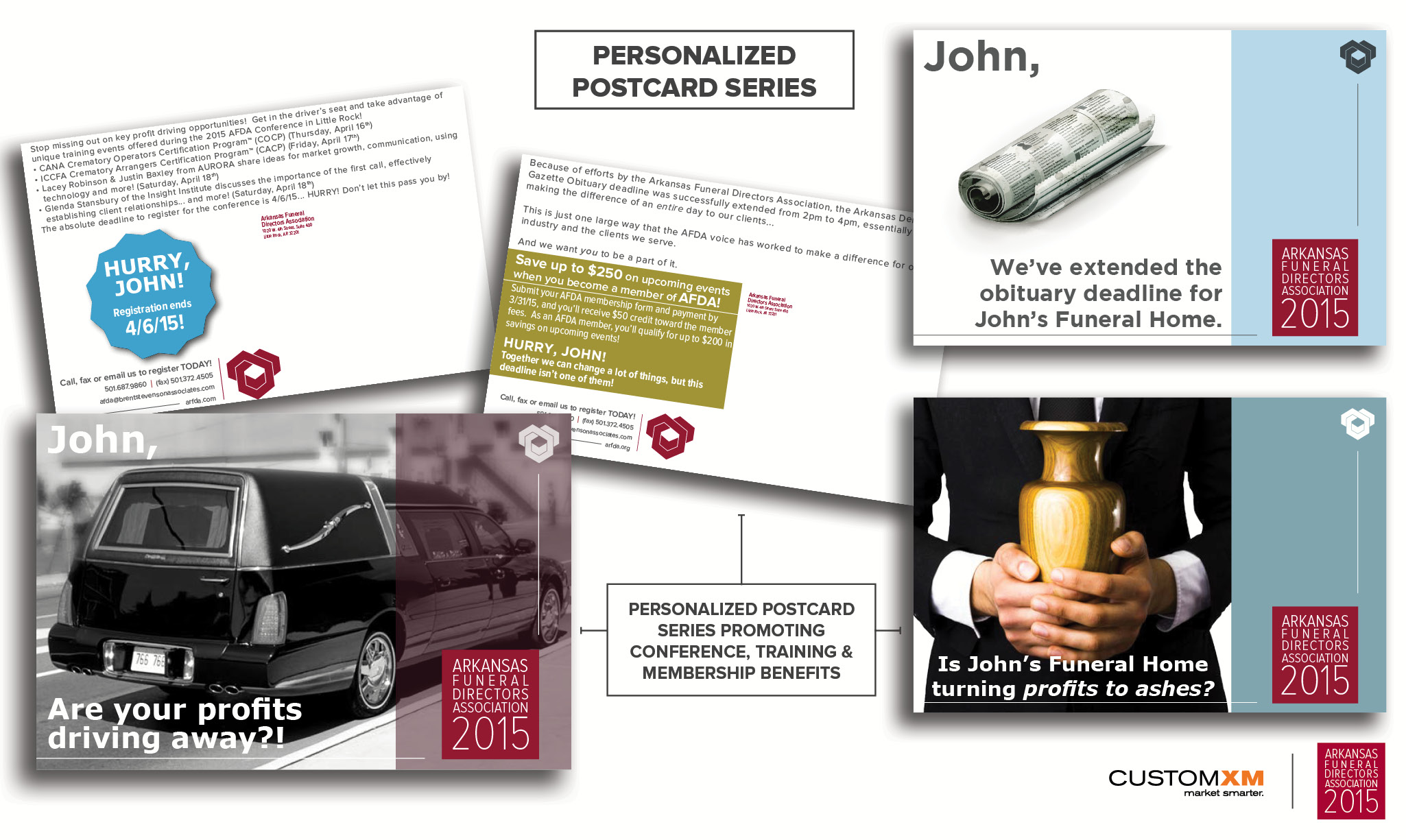 Resurrecting Funeral Directors Association Membership
The Challenge
The Arkansas Funeral Directors Association (AFDA) works to establish, cultivate, and promote programs and policies that strive to mark the passage of life with dignity and instill high standards for ceremonies that are sensitive to the special needs of those who survive.
With approximately 300 funeral homes in the state, and membership currently at about 80 members, the Association was exploring ways increase statewide membership, while retaining and increasing engagement with its current members. A membership of 150 funeral homes was the desired goal. While cost of membership is often the reason given for those who decline membership or renewal, the association also wanted to explore ways to promote the value of the membership itself.
The Solution
CustomXM, a North Little Rock, Arkansas direct mail and print provider, proposed a concentrated effort to promote the value of membership in AFDA in conjunction with their upcoming 2015 Annual Convention. Because of the small existing membership and potential membership population, we recommended the following:
A direct mail campaign consisting of a well-organized and visually attractive brochure. This piece highlighted member benefits and included the conference event schedule, as well as member testimonials. The brochure would feature an incentive offer that reflected a substantial savings for members if they acted before the registration deadline.
The brochure mailing also included a well-organized registration form encompassing membership renewal and the conference registration.
A series of personalized postcards followed the brochure mailing. The postcards highlighted membership benefits and the available training opportunities. The same call to action incentive was also included in these direct mail pieces.
A segmented email campaign was launched just before the incentive offer expiration which targeted A) non-members and B) existing members thanking those who renewed early, and asking them to attend the conference and training. Lastly, an informative email that included the conference schedule was sent to the entire database prior to the registration deadline. All emails contained a link to the AFDA website with event information and links to a downloadable version of the registration form.
The Results
As a result of the campaign, AFDA membership reached new levels and the conference had a record number of attendees. Jeff Smith, President of the Arkansas Funeral Directors Association had this to say:
We had a record crowd this year and exceeded our projected attendance for the banquet, Thursday and Friday Continuing Education, and increased membership 20%.
Thank you! Your creative work with our efforts yielded great results.
https://customxm.com/wp-content/uploads/2015/05/CUSTOMXM_AFDA_2015conference_casestudyart_v32.jpg
1225
2050
Holly Herlocker
https://www.customxm.com/wp-content/uploads/2013/05/custom-xm-logo-300x100.png
Holly Herlocker
2015-05-13 13:11:14
2015-05-13 13:11:14
Resurrecting Funeral Directors Association Membership