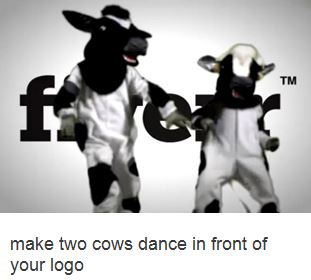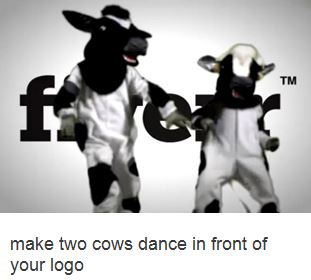 How much would you pay to have not one, but two cows dance in front of your logo?
As you think about that, consider this –
Today we have the luxury of being able to purchase anything, absolutely anything, from our laptop or phones. And this omnipresent availability has driven our price expectations and realities to incredibly low prices. But even at that, what would you expect to be able to purchase for five dollars?
Surprisingly, and maybe even frighteningly, quite a bit. Maybe you've heard about Fiverr.com. As defined by Wikipedia, Fiverr is a global online marketplace offering tasks and services, beginning at a cost of $5 per job performed, from which it gets its name. The site is primarily used by freelancers to offer a variety of different services, and by customers wanting to buy those services. Over 3 million services, over 100 product categories, all starting at $5. Is this a great country or what???
A quick review of the Fiverr web site will show you that most of the services offered tend to cater to those desiring some sort of creativity – graphic design, copy writing, branding, stationery design and even legal services. Well, I certainly appreciate a creative lawyer.
But for $5.00? Really?
Okay, in the spirit of full disclosure, let me say just a few things:
We offer creative services (duh), and charge much more than $5.00.
We often use local designers and other freelancers and they charge more than $5.00.
I appreciate a bargain.
I'm willing to try most anything once.
And I have used Fiverr.com not once, not twice, but three times.
And I feel really good about it.
Our First Fiverr Foray Featured Fingers. Just take a look…
We had so much fun with that one, we decided to get more fingers and hands involved with Play-Doh:
And finally, we decided to splurge and celebrate the fact that we are, All About That Print.
But does this whole cheap-creativity-on-demand undermine our services, and those of other artists, designers and creatives?
Hardly.
Here's why –
Few, if any of these "gigs" cost $5.00. Most all of them have add-ons. My Finger Fiverr was in fact $5.00; the Play-Doh video was $25.00, and as far as the All About That Print video, I rewrote the lyrics – Fiverr provided the music and vocals for $85.00. We produced the video in house.
These gigs are what they are – inexpensive and expedient. They may serve a specific purpose, but you do need know what you are looking for.
And you absolutely must remember, as in most all things, you do get what you pay for.
So if you need to have cows dancing in front of your logo, by all means, use Fiverr. But if you need true creativity, a concept, a cohesive design, or a true marketing campaign to tell your story, you will need to look elsewhere. Preferably here.
https://customxm.com/wp-content/uploads/2015/02/fiverr-gig.jpg
280
311
Paul Strack
https://www.customxm.com/wp-content/uploads/2013/05/custom-xm-logo-300x100.png
Paul Strack
2015-02-17 20:21:34
2015-02-17 20:21:56
What's New Wednesday – Can You Spare a Fiverr?