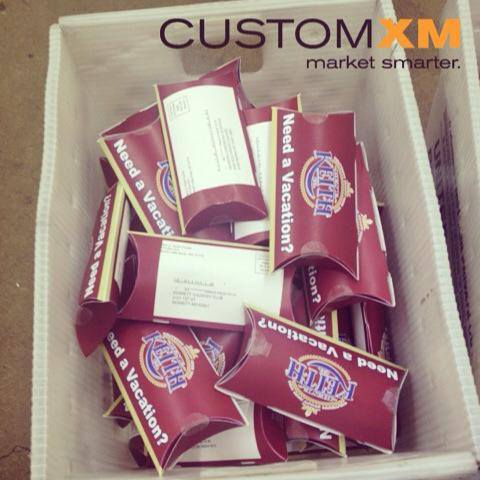 Ben E. Keith Uses Lumpy Mail to Increase Trade Show Appetite
BUSINESS OBJECTIVES
Ben E. Keith, a distributor of food service products and premium alcoholic beverages, located in North Little Rock, Arkansas, frequently uses hospitality and food trade shows to showcase their newest products. The company had committed to participating in a new event in Memphis, Tennessee and wanted to maximize their return by attracting restaurant owners, chefs and others in the industry to this event. They engaged CustomXM to assist them in their marketing efforts to drive booth traffic to this single-day food expo.
RESULTS
Over 160 individuals stopped by the booth and registered, which yielded a 52% response rate. Glenda Clark, part of the Ben E. Keith Marketing team, was ecstatic with the results.
"The turnout at the Memphis show was great! That is well over what we expected. At the last tradeshow we had in Memphis several years ago, we had less than 20 visitors." 
TARGET AUDIENCE
The targeted audience was restaurant owners and chefs in the Memphis, Tennessee area.
SOLUTION ARCHITECTURE
Ben E. Keith engaged CustomXM to assist them in marketing an upcoming food show in Memphis, TN. It had been a while since they had participated in this Memphis event, and they wanted to use unique techniques to engage prospects and drive booth traffic. After determining the objectives and incentive, an Alaskan Cruise, two mailings were created to attract and engage the target audience. Ben E. Keith had a database of 305 prospects and sent them an invitation via a traditional style A6 mailer.
This was followed with a lumpy mail box that included a customized card and luggage tag, inviting recipients to stop by the booth and register for the grand prize of an Alaskan Cruise.
The mailer box, which was approximately 3.75" x 6.5" x 2", looked very similar in shape and size to a "fried pie" box made famous by a national fast food chain. After getting postal approval that this box could in fact be mailed, CustomXM proceeded with the graphic design and production.
On the outside of the box, the words "Need A Vacation?" were boldly and prominently displayed along with the Ben E. Keith logo. Anyone in the restaurant or food industry knows how few and far between vacations are, so these words were chosen as they would certainly resonate with the recipients. Additionally, the unique size alone of this lumpy mail piece would capture the attention of the mail recipient. Inside the box was a personalized note card inviting recipients to visit the Ben E. Keith booth during the food show and register to win the grand prize of an Alaskan Cruise. Additionally, to reinforce the idea of a much needed vacation, a Ben E. Keith branded luggage tag was included in the box as well.
REASONS FOR SUCCESS
The main reason for success was a clever design that caught the attention of the recipient combined with a great offer (free cruise).
https://customxm.com/wp-content/uploads/2015/06/BEK_sunglasses.jpg
480
480
Holly Herlocker
https://www.customxm.com/wp-content/uploads/2013/05/custom-xm-logo-300x100.png
Holly Herlocker
2015-07-19 18:46:47
2015-07-19 19:11:01
Ben E. Keith Uses Lumpy Mail to Increase Trade Show Appetite