Posts
https://customxm.com/wp-content/uploads/2019/01/rihanna.gif
294
498
Paul Strack
https://www.customxm.com/wp-content/uploads/2013/05/custom-xm-logo-300x100.png
Paul Strack
2019-01-08 11:19:51
2019-02-01 11:47:40
Our 2019 Resolutions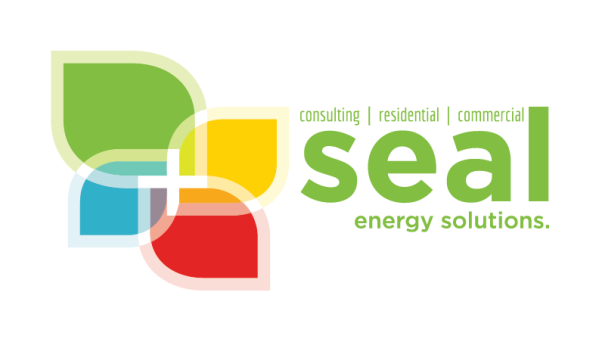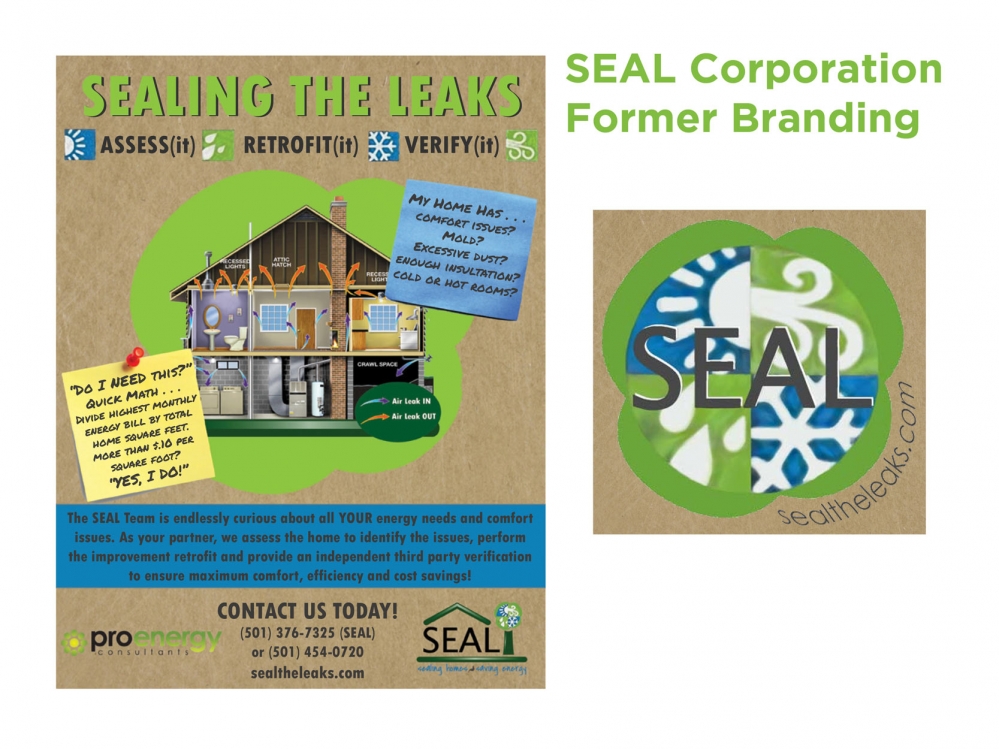 Seal Energy Solutions is an energy assessment group providing commercial and residential spaces with energy audits and the retrofits needed to maximize energy efficiency. Finding themselves in a period of evolution and rapid growth, Seal approached CustomXM with task of polishing up their look. Their existing visual branding didn't clearly communicate the services they provided, identify with their target audiences, nor did it reflect the new and innovative sense of their relatively young industry segment.  The structure in the existing logo looked like a house, however they also provide commercial services and even offer consulting services for builders and architects.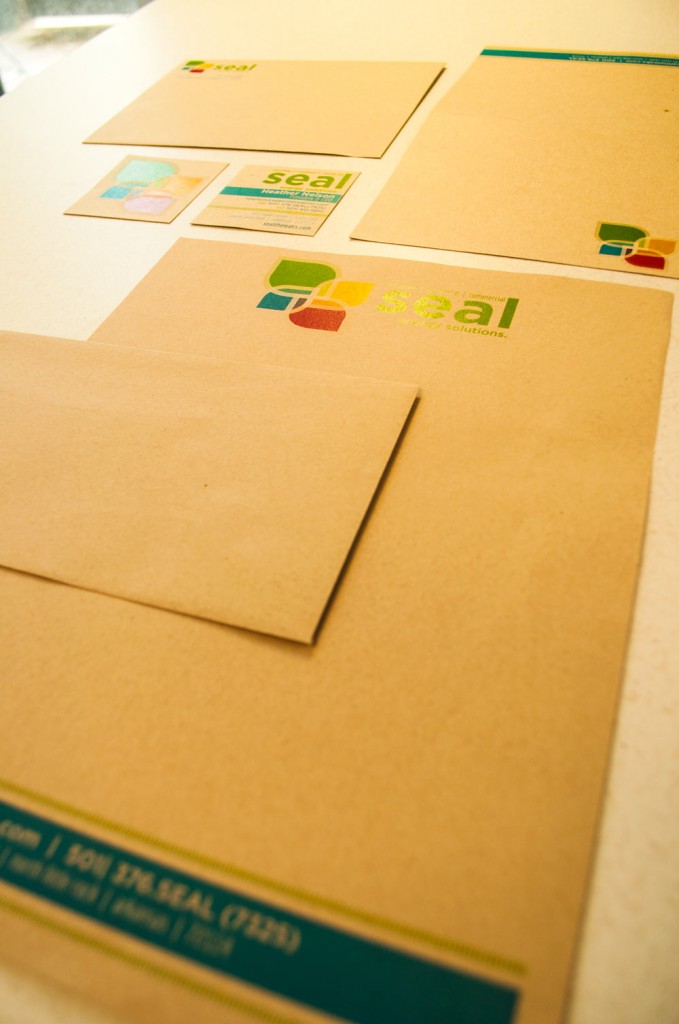 Borrowing from the seasonal tree in the existing logo, CustomXM's designers created an icon of four simplified leaf shapes that overlap to ultimately reveal the healing symbol of a cross in the center. The transparent leaf forms create a kaleidoscope of vibrant colors that reinforce the concept of of being in a modern and evolving industry, as well as borrow from our traditional color concepts of the four seasons. In conjunction with the leaf forms, colors also reference their eco-friendly initiative.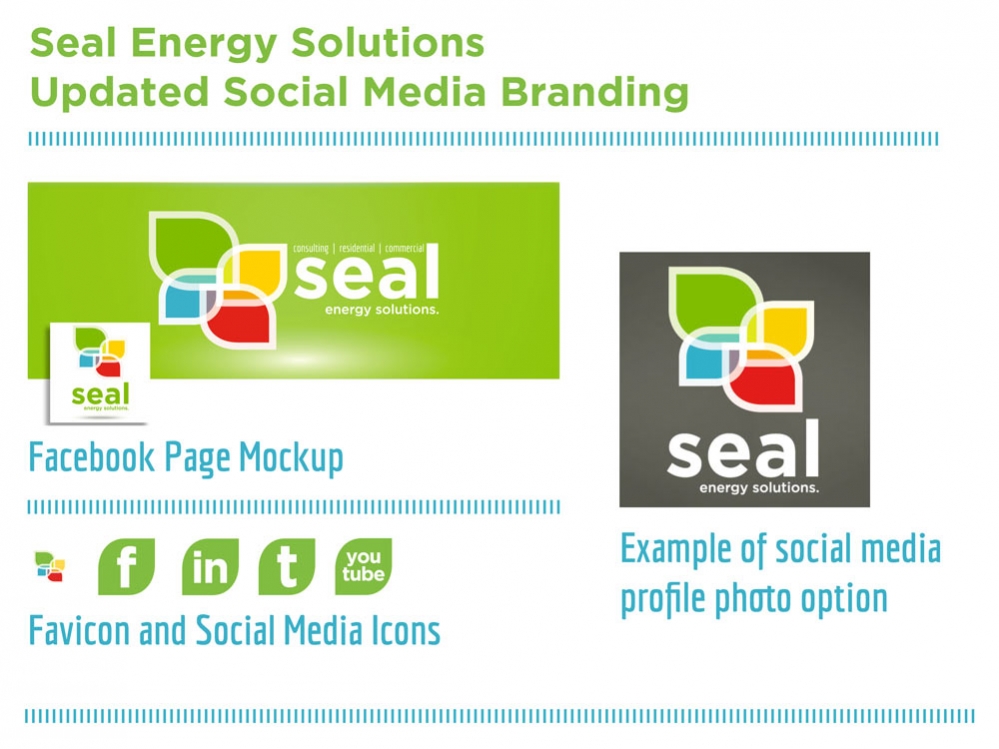 During the rebranding process CustomXM also assisted Seal with updating their name so that it included Energy Solutions. (which we initially intended to be the tagline).  We also structured the name so to ensure that it would no longer be displayed in all caps as though it were an acronym, a frequent assumption of their audience due to the former all-caps type treatment.
We have had so much positive feedback from the new branding… they love the look and colors and they understand better who Seal is and what we do. The fact that the brand [look] still accurately represents who we are today gives us confidence that the decisions made with its direction were correct… As a penny-pinching entrepreneur, that gives us further assurance that the money invested in the re-branding was well spent and truly an investment in our firm.  Heather Nelson, President and COO, Seal Energy Solutions
Very pleased with their new look, Seal has also commissioned CustomXM not only to create updated printed materials, but we also provide branding within their new office creatively displaying their logo in an oversized wall decal, supporting window graphics and plans for an outdoor sign. As well as shirts, hats and water bottles, CustomXM has also provided license plates and van decals, and looks forward to providing more Seal swag.
https://customxm.com/wp-content/uploads/2014/06/SEAL_horz-01-e1402599817887.png
342
599
Holly Herlocker
https://www.customxm.com/wp-content/uploads/2013/05/custom-xm-logo-300x100.png
Holly Herlocker
2014-06-10 22:55:55
2015-06-03 13:28:13
Seal Energy Solutions Rebranding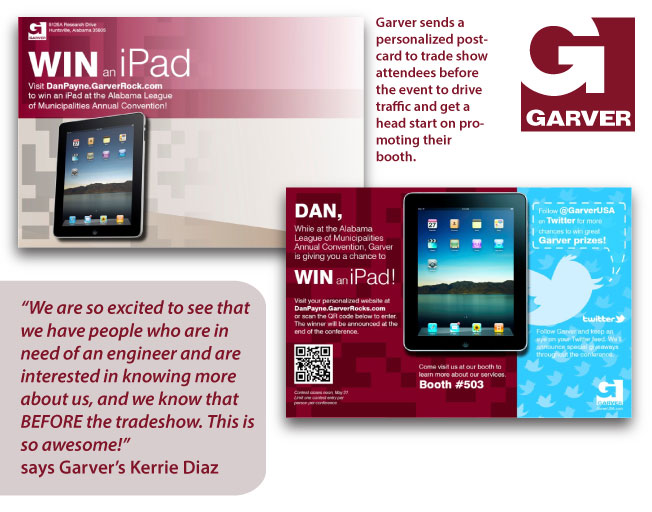 Garver is a multi-disciplined engineering, planning and environmental services firm. Garver utilizes exposure through industry trade shows targeting government, municipal, transportation and energy-related entities as a primary marketing channel. They wanted to improve trade show presence, increase awareness of the company's services, drive traffic to the booth, social media outlets and hone in focus on qualified leads.
CustomXM developed a cross-media campaign utilizing email blasts and postcards personalized to each attendee. The communication encouraged recipients to follow Garver on social media outlets, and enter an iPad giveaway contest via a personalized website. Printed cards with a generic URL and QR Code were distributed at the show allowing attendees to register while visiting the Garver booth. Once in the website, they were asked to give general contact information, as well as potential interest in Garver's engineering services, to which 28% of survey respondents indicated they did in fact have a need for the services.
"We are so excited to see that we have people who are in need of an engineer and are interested in knowing more about us, and we know that BEFORE the tradeshow. This is so awesome!" says Garver's Kerrie Diaz
Overall, the campaigns drove a 29% response rate and increased traffic to their booth by 10 to 50% from the previous year. At one show, it was publicly announced that more attendees than ever before had stayed through to the end of the conference, credit was given to Garver's iPad giveaway winner announcement.
"We've had a really positive response to this campaign from both our people here [at Garver] and visitors to our booth!" added representative Alan Watson
https://customxm.com/wp-content/uploads/2014/06/garver_tradeshow1.jpg
512
652
Holly Herlocker
https://www.customxm.com/wp-content/uploads/2013/05/custom-xm-logo-300x100.png
Holly Herlocker
2014-06-10 22:43:00
2014-08-25 16:22:35
Garver Engineering Trade Show Success!
PRODUCTION FACILITY
1724 Pike Avenue
North Little Rock, AR 72114
SALES AND MARKETING OFFICE
301 Main Street, Suite 206
North Little Rock, AR 72114
(501) 375-7311