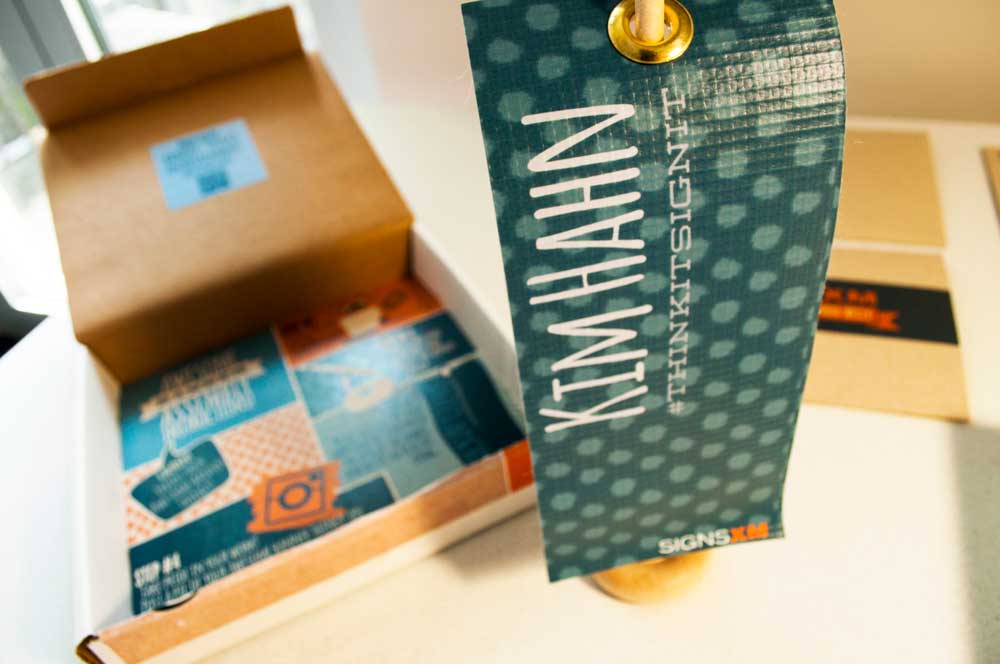 BUSINESS OBJECTIVES
CustomXM added a new division, SignsXM. It wanted to find a unique way to announce its new offerings which included all types of wide format printing, including banners, signage, wall graphics, vehicle graphics and more. CustomXM also wanted to use a cross media, multi-channel approach that would drive results and illustrate CustomXM's marketing capabilities.
RESULTS
CustomXM created a unique, dimensional mail piece that included a personalized mini-banner for all recipients. CustomXM encouraged recipients of their "Awesome Banner Thingys" to post photos on Instagram, which would qualify them for entry into a prize drawing.
420 pieces were mailed to prospects and current clients of CustomXM. Over 12% of recipients responded and completed the online survey. Additionally, over 13% of the recipients posted photos of their Awesome Banner Thingys on  Instagram accounts. Many of these respondents were a different subset than those that responded to the online survey.
The campaign received quite a bit of social media buzz and accolades from local ad agencies. It immediately led to meetings and opportunities for signage and direct mail proposals for clients and prospects. Many of these opportunities led to new business within the first three weeks of the campaign.
This campaign also received national recognition by receiving two Bennys awarded by the Print Industries of America during their Premier Print Awards, an international print competition.
TARGET AUDIENCE
The targeted audience was current clients and prospects of CustomXM.
SOLUTION ARCHITECTURE
At CustomXM, they like to market themselves a little differently. They like to use the marketing tools they are constantly advocating, and they like to have a little fun. They accomplished all this and more with their "Awesome Banner Thingy" campaign.
Recently, CustomXM added wide format services to their offerings. They even created a separate division, SignsXM. But they felt that it wouldn't be enough just to tell folks about these new services, it would be better to show them. And have them show others.
To engage its target audience, CustomXM developed a dimensional mailer – an 8" x 8" x 1.25" box complete with a personalized label informing recipients that a "surprise" was inside. Inside the box was the following:
A personalized envelope and note card introducing the new division and services.
An instruction sheet showing recipients how to put together their own Awesome Banner Thingy
A QR Code that linked to a video explaining how to construct the Awesome Banner Thingy
The actual Awesome Banner Thingy which was a 3.25" x 7.5" vinyl banner, personalized with the recipient's name, complete with a grommet and very tiny banner stand.
To encourage responses recipients were given two opportunities to participate in a prize contest
By visiting their personalized website and completing a survey
By sharing a photo of their Awesome Banner Thingy on Instagram
REASONS FOR SUCCESS
The main reason for success was a clever design and personalized promotion.
Article courtesy of W. Caslon & Company, 2015, PODi.org
https://customxm.com/wp-content/uploads/2014/08/DSC_6493.jpg
664
1000
Holly Herlocker
https://www.customxm.com/wp-content/uploads/2013/05/custom-xm-logo-300x100.png
Holly Herlocker
2015-07-19 18:45:11
2015-10-29 16:27:49
SignsXM Launches with Out-of-the-Box Lumpy Mail