Admit it…
You still look forward to that mail moment. Even though you've seen and read everything via facebook, email, twitter, instagram and snapchat, you still make the daily inquiry – Has the mail arrived yet?
Believe it or not, the USPS has a way to satisfy your desire for digital AND traditional communication- Informed Delivery.
In short, this program allows you to see what is in your mailbox even BEFORE it is delivered. And even better, or more ironically, this information is EMAILED to you on a daily basis. Who knew??
U.S. Postal Service Postmaster General and CEO Megan J. Brennan announced yesterday that this program has attracted more than 2 million users. Brennan added that with the offering available in nearly every ZIP Code in the United States, more than 10,000 new people are signing up every day.
So what are you waiting on?? Your Informed Mail Moment awaits you.
What's in My Mailbox?
Here's a look at what's in store for me when I get home today: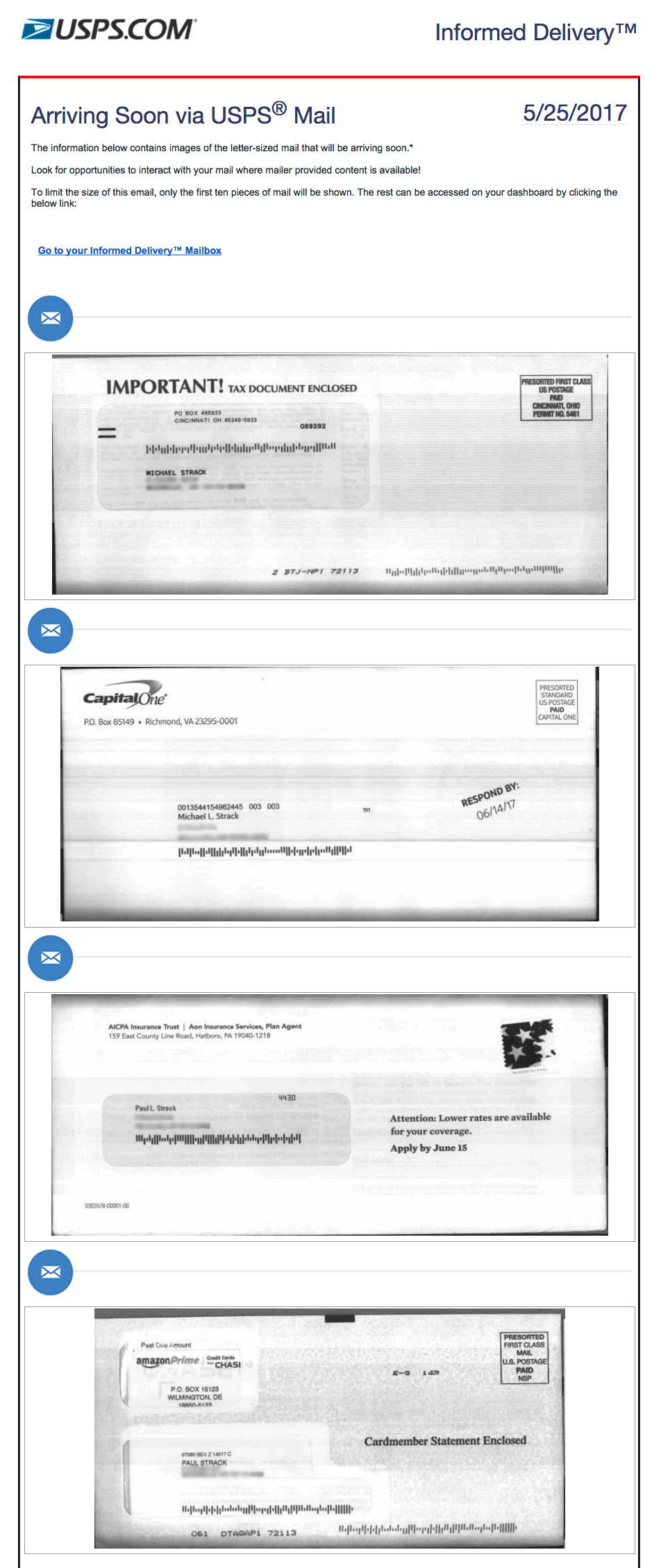 an IMPORTANT tax document for son #1. Won't he be excited about that?
a credit card offer for son #1. Of course he has good credit, he's living at home with us!
an insurance offer from the AICPA (confirming that I may be worth more dead than alive.)
and a credit card bill for me. (Maybe I should refer them to my son?)
Ok, nothing really fun or exciting. No pennies from heaven or Nobel Prize notices, but at least I do know what will be waiting for me when I return home.
The USPS reminds us that possibly "not all mail pieces" may be shown. Oversized pieces and some marketing materials may not be included, so there will still be some hint of anticipation when when I ask that question – "has the mail arrived yet?"
To sign up for this free program, go here.
In the meantime, if you need ideas on how to get into your customers' mailboxes (or email in-boxes), give me a call.
We put your name out there!